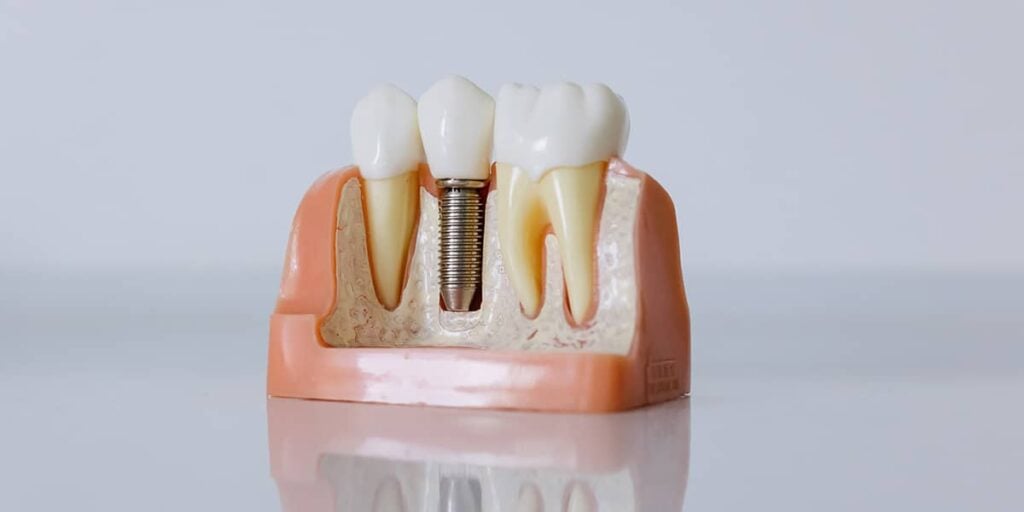 Dental Implants San Francisco
Teeth play an essential part in our overall health, which is why taking care of them is so important. However, life sometimes has other plans, and our teeth don't always stay in the best shape. This can significantly impact our quality of life, making it difficult to eat, speak, and smile confidently. That's where dental implants come in – they can help restore your smile and improve your oral health.
Dental implants are the best solution for tooth loss because they are permanent and can last decades. They're also more comfortable and natural-looking than dentures. At Post Street Dental, we offer the best dental implants in San Francisco. We are conveniently located in the heart of the city at 490 Post Street, Suite 520, San Francisco, CA. Contact us today at (415) 986-4534 to schedule an appointment.
What Are They?
Dental implants are replacement tooth roots. They're usually made of titanium, a material that is well tolerated by bone. They can also be made of zirconia or other materials if you are allergic to titanium. They're placed into your jawbone to fuse with the bone and provide a strong foundation for artificial teeth. The artificial teeth placed on top via an abutment or connector can be made to match your natural teeth in color, shape, and size. They can be dental crowns, bridges, or dentures.
What Are the Benefits?
Dental implants have many benefits, both for your oral and overall health. They have a high success rate and can help you feel more confident about your smile and improve your quality of life.
Some of the other benefits are:
Dental implants are permanent. The titanium implant itself is designed to last decades or even a lifetime with proper care.
They're more comfortable than dentures. You don't have to worry about them slipping or moving around in your mouth like removable dentures.
They can help preserve your jawbone. When you lose teeth, the bone in the jaw begins to deteriorate, which can make the face appear to sag. Dental implants can help stop this process.
They can improve your oral health. Because they're placed in the jawbone, they act like natural teeth and allow you to brush and floss normally. This helps to keep your mouth healthy and free of disease.
They look and feel like natural teeth. With proper care, dental implants can blend in seamlessly with your existing teeth.
Dental Implant Types
Two types of implants are used in dentistry today: subperiosteal and endosteal.
Subperiosteal implants are placed under the gum tissue but on top of the jawbone. They're made of titanium or zirconia and are often used for people who don't have enough bone in their jaw to support endosteal implants. They're a good option if you've had teeth extracted and your jawbone has begun to shrink.
Endosteal implants are placed directly into the jawbone. They're usually made of titanium and can be used to support a single tooth, a bridge, or a set of dentures. They're a great option if you have enough bone in your jaw to support them.
Your dentist will determine the type of implant that's best for you based on several factors, including the health of your jawbone and the number of teeth you need to replace.
Dental Bridge vs. Implant
You might wonder if a dental bridge or implant is right for you. Both options have their benefits and drawbacks, so it's important to consult with your dentist to see which one is best for your individual needs.
Dental bridges are less expensive than implants but are also not as permanent. They're usually made of porcelain or ceramic and don't last as long as implants. Bridges also rely on surrounding teeth for support, which can potentially damage those teeth over time.
Dental implants are more expensive than bridges but are much more durable and long-lasting. They're made of titanium, a very strong material, and placed directly into the jawbone. This makes them much sturdier than bridges.
If you're considering a dental bridge or implant, Post Street Dental can help you decide which is best for you. We'll be happy to answer any of your questions and help you make the best decision for your smile.
All-On-4®
The All-On-4 treatment concept is a newer solution that offers many benefits over traditional dentures or implants. It's an excellent option for people who have lost all of their teeth and want a complete, permanent set that looks and feels natural.
All-On-4 uses just four implants to support an entire set of upper or lower teeth. The implants are placed strategically in the jawbone to give them optimal support. All-On-4 implants are also very strong and durable, so you don't have to worry about them breaking or coming loose. They're also very easy to care for – you brush and floss them just like your natural teeth.
Dental Implant Risks
Like any surgical procedure, there are some risks associated with dental implants. The most common risks include:
Infection at the implant site. Since the implants are placed directly into the jawbone, there is a risk of infection. This risk can be minimized by using sterile techniques and taking antibiotics as prescribed by your dentist.
Nerve damage. There is a small risk of nerve damage when getting dental implants. This can cause numbness, tingling, or pain in the lips, gums, teeth, or chin.
Sinus problems. Dental implants can also cause sinus problems in some people. This is because the implants are placed close to the sinuses and can interfere with their normal function.
Implant Rejection. In rare cases, the body may reject the implant. This usually happens because of an allergy to the metal or because the body cannot heal properly after surgery.
Allergic reactions. Some people may be allergic to titanium or other materials used in dental implants, which can cause inflammation, pain, and swelling.
These risks are typically rare and can usually be avoided by working with an experienced and reputable dentist and following aftercare instructions closely.
Aftercare Instructions
Once your dental implants are placed, it's important to follow all aftercare instructions closely to ensure they heal properly.
Brush and floss your teeth regularly. This will help keep your mouth clean and prevent infection. Your dentist may give instructions on how to brush your teeth immediately after surgery.
Avoid hard and chewy foods. Stick to soft foods for the first few days after surgery to allow your implants to heal properly.
Avoid smoking. It's best to stop smoking immediately after surgery as smoking can increase the risk of infection and implant failure.
Take your antibiotics. Be sure to take your antibiotics as prescribed by your dentist to help prevent infection.
Visit your dentist for follow-up appointments. It's essential to see your dentist for follow-up appointments to check on the healing process and ensure the implants are placed correctly.
Good oral hygiene and following the aftercare instructions can help ensure your implants heal properly and last for many years.
Frequently Asked Questions
How long do dental implants last?
Dental implants are designed to be permanent but may eventually need to be replaced. The average lifespan of an implant is 10 to 20 years, but some people have implants that last for much longer.

Are dental implants painful?
There is usually some discomfort associated with dental implants, but it is typically minimal. Your dentist will numb the area before surgery to help minimize any pain. You may also be prescribed pain medication to help control any discomfort after surgery.
How do dental implants work?
Dental implants are inserted into the jawbone to act as artificial roots. Once they have healed, a dental prosthetic (such as a crown, bridge, or denture) is attached to them. This prosthetic replaces the natural teeth and gives you a new and improved smile.
Who is not a good candidate for dental implants?
Some people are not good candidates for dental implants, such as those with gum disease (periodontal disease), diabetes, or certain autoimmune disorders. Your dentist can determine if you are a good candidate for implants during a consultation.
Contact Us
"*" indicates required fields
Restore Your Smile With Dental Implants
Post Street Dental and our partner, Young Dental SF Group, specialize in dental implants that can help restore your smile. We use the latest technology and techniques to ensure that your implants are placed correctly and look and feel natural. We also provide a comfortable and relaxing environment so you can feel confident and reassured throughout your treatment.
If you're considering dental implants and want the best dentist in San Fransico, contact us at (415) 986-4534 or complete the online booking form. We look forward to seeing you soon!